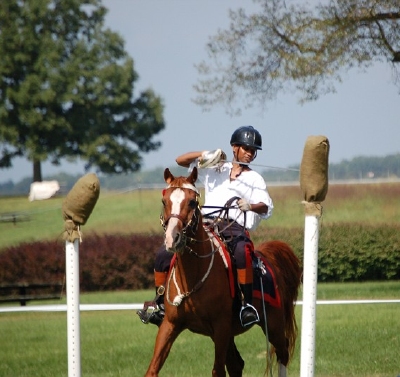 At the US National Cavalry Competition
Canada will be represented at the International Tent Pegging Championships for the first time, when Akaash rides for UNICEF Team Canada at the 2007 games hosted by the Sultanate of Oman from 02-06 March.
"I am humbled to compete alongside some of the world's foremost equestrian athletes, yet proud to do so on behalf of Canada," said Akaash. "I am especially honoured to serve as a UNICEF representative, and to ride not only for Canada, but also for the cause of the world's children."
With a history stretching back 2 500 years, tent pegging emerged out of cavalry training exercises, and is often known as equestrian skill-at-arms. It is one of only ten disciplines officially recognised by the Fédération équestre internationale (FEI), the global governing body for equestrian sport.
In a unique Canadian arrangement, Akaash has declined corporate sponsorship and has instead donated his team naming rights to the United Nations Children's Fund. Carrying the organisation's colours in Oman, he hopes to further UNICEF's campaign to provide education to vulnerable children, to help them escape the child labour trade.
Akaash most recently competed at the 2006 US National Cavalry Competition in Kentucky, and took ribbons in Mounted Sabre III and in Military Field Jumping II. He trains at the Meadows Equestrian Centre and began tent pegging as a rider with the Governor General's Horse Guards.
He has volunteered with UNICEF since he was a child, and was Chair of UNICEF's Orange Box Hallowe'en programme in Ontario. He was also a director of UNICEF at Oxford University and of the Commonwealth of Nations Association for UNICEF.