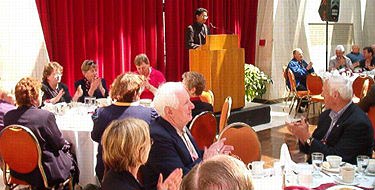 Akaash addresses the Atlantic Policy and Leadership Forum
As National Policy Chair of the Liberal Party of Canada, Akaash has been travelling the country, creating a series of Policy and Leadership Fora across Canada, in which grassroots policy development workshops will be married to televised debates between the leadership candidates.
"During this defining period in the Party's history, it is a political and ethical imperative that as grassroots Liberals, we have an opportunity to come together in debate to shape the future of Liberalism, and that equally, we ensure that we elect our next leader in a context of vigorous and substantive debate," said Akaash.
When will Akaash bring a Policy and Leadership Forum to your region?

The North
Whitehorse, 10 May

Participating Territories
Yukon, Northwest Territories, Nunavut

Forum's National Theme
Sustainable Development

To obtain tickets
Please contact the YLP President.

To submit questions for the debate
Contact Akaash before 09 May


---

Read the Article




---

See the Video




---

Ontario
Ottawa, 07 June

Participating Province
Ontario

Participating Committee
National Standing Committee on Multiculturalism

Forum's National Theme
Canadian Identity

To obtain tickets
You must be a delegate or observer to the LPC(O) Convention. E-mail the LPC(O) office for details.

To submit questions for the debate
Contact Akaash before 04 June

---

See the Video




---
Each Forum will include a set of morning policy workshops, to provide grassroots Liberals with the opportunity to express their views on the direction of the Party and the country. The workshops will be followed in the afternoon by a debate between the three leadership candidates, to question them on how they would give effect to the views expressed by Liberals.
Liberals can participate directly in the Fora by attending the workshops and debates, and may also submit questions in advance to be put to the leadership candidates.
"Our objectives are to allow grassroots policy development to harness the energy unleashed by the leadership elections; to compel leadership aspirants to engage with and to become accountable to the expressed views of Party members; and to ensure that we take full advantage of the change in leadership to catalyse Party renewal," said Akaash.
"It is my hope that through this exercise, our Party will show itself equal to our responsibility to ensure that our leadership election is as much about fostering a genuinely national vision of the public interest, as it is about a contest of organisational prowess."