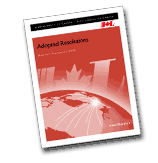 Akaash and the Liberal Party's National Policy Committee have completed the 2003 edition of their Accountability Report, which he will formally present to the Party membership at the Leadership Convention in Toronto.
As National Policy Chair, Akaash worked with the Policy Committee and the National Executive to institute the annual publication of the report, which details what steps the government has taken, proposes to take, or has failed to take, to implement policies adopted by the Party's grassroots membership.
"The measure of the Party's policy process lies not in our ability to pass resolutions, but in the effectiveness of those resolutions to influence the actions of our government," said Akaash. "High words cast long shadows over low deeds, and the very democratic weight of the Liberal policy process imposes a heavy burden of responsibility for action upon the shoulders of a Liberal government. It is my hope that the Accountability Report will empower the grassroots membership to uphold that responsibility."