Canada's Leaders Against Antisemitism and Islamophobia
09 April 2023, 17h00 EDT (UTC-4)
https://www.maharaj.org/blog/2023_04_09.shtml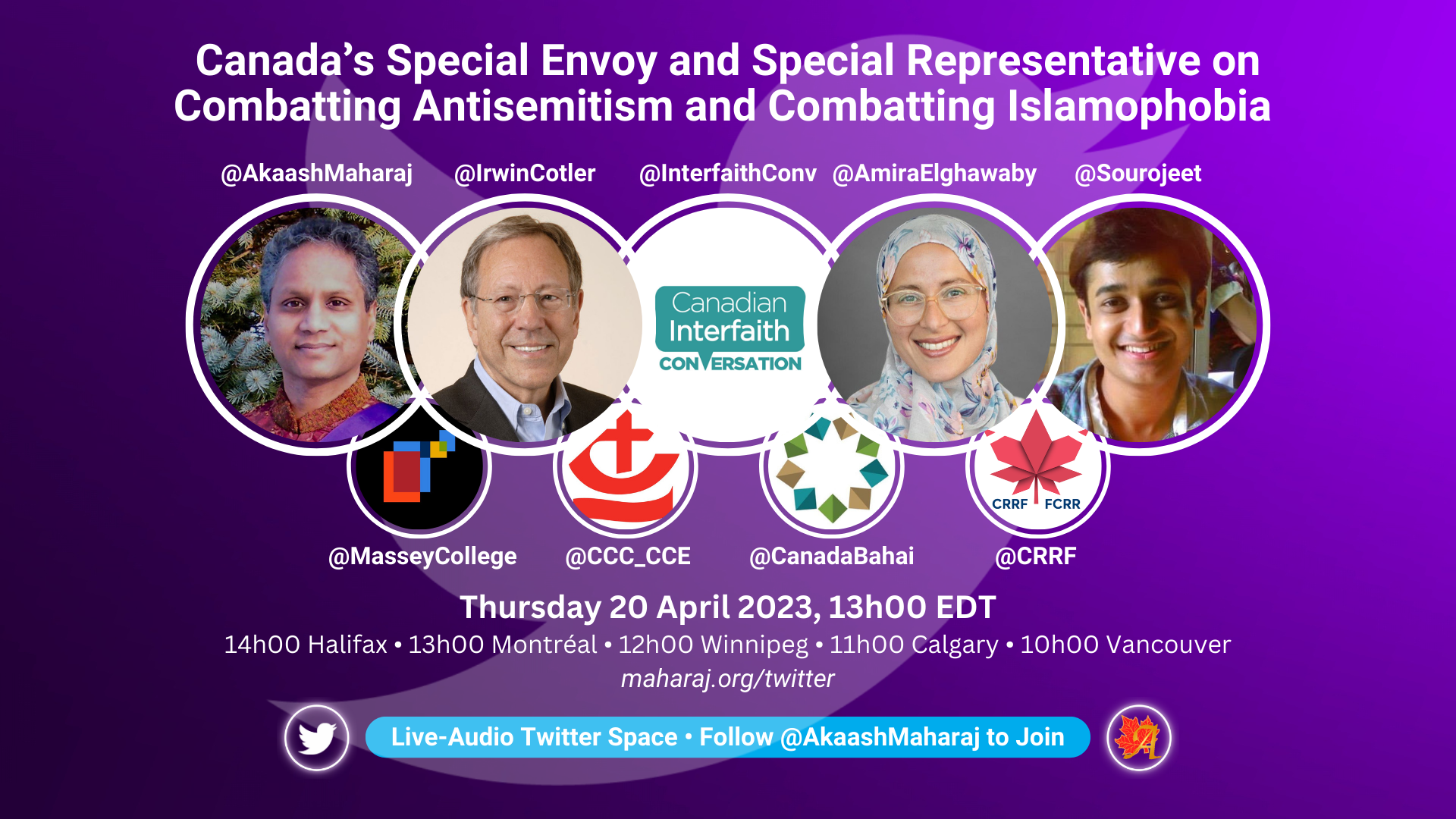 Our Upcoming Live-Audio Conversation
Click image to join the Twitter Space
Next week, I will moderate a Canadian Interfaith Conversation live-audio discussion, on Twitter Spaces, with Canada's federal leaders against antisemitism and islamophobia: Irwin Cotler and Amira Elghawaby, respectively.
They will discuss their mandates, and how democratic societies can remain both pluralistic and united in an age of political and social polarisation.
Our discussion will be on Thursday 20 April 2023, beginning at 13h00 EDT (local times here).
Join the discussion here, and tweet your questions for the speakers using the hashtag #spcl.

Statistics Canada reports that since the current federal government took office in 2016, police-reported hate crimes have increased by 138%, and that "Jewish and Muslim Canadians are 'the most frequent targets' of crimes against religious communities".
As part of its response, the federal government named Irwin Cotler as Canada's Special Envoy on Preserving Holocaust Remembrance and Combatting Antisemitism, and named Amira Elghawaby as Canada's Special Representative on Combatting Islamophobia.
We are delighted that they will join us together, in a live-audio conversation at Twitter Space, to discuss their work.
Why have antisemitism and islamophobia proved to be so tenacious, even in pluralistic societies?
How can democratic nations foster a social consensus that combatting antisemitism and islamophobia are the callings of all citizens, and not only Jews and Muslims?
In in an age of profound political and social polarisation, are citizens still receptive to the creed that intolerance against any of us diminishes all of us?
Our conversation will be on Thursday 20 April 2023, at 13h00 EDT, at https://twitter.com/i/spaces/1vAxRAVvjbrJl
I hope you will join us.