Sallying Forth
22 March 2012, 06h15 IST (GMT+5.5)
https://www.maharaj.org/blog/2012_03_22.shtml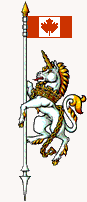 UNICEF Team Canada
Click image for the team web page
Time is an unyielding master, and the last few years have been so full of professional obligations for me that I have had little time to practise tent pegging, the sport of sword, lance, and horse that brought me into the world of equestrianism. Taking some time to myself has allowed me to revisit my passion; unfortunately, it has also caused me to discover that any talent I may once have possessed wandered away while I was chained to my desk.
However, tent pegging is a sport that favours the bold over the sensible, and so I have nevertheless decided to accept an invitation to sally forth to India, to represent Canada at the 2012 Asian Tent Pegging Championships. The Games will be held in Ghaziabad, a district of the Delhi national capital region.
Tent pegging is an ancient sport, and some two-and-a-half millennia of history shroud its origins. It was undoubtedly created to equip cavaliers with the skills necessary to wage war from the saddle; it was probably used as battle drill to prepare horse-mounted cavalry to fell elephant-mounted opponents. It is not for the faint of heart; it is perhaps for the soft of head.
Irrespective of the story of its formative years, its place of birth is a settled question. Tent pegging emerged from the great Asian cavalry powers, and galloped outwards with the spread of empires. Today, the Olympic Council of Asia has made tent pegging part of the biennial Asian Beach Games, and the sport is one of the ten disciplines recognised by the International Equestrian Federation (FEI).
The 2012 Asian Tent Pegging Championships will bring together teams from across the equestrian region (Asia proper, the Middle East, and North Africa), as well as three teams from the three other continental regions: the United Kingdom from Europe; South Africa from Africa; and Canada from the New World.
I arrived in India in the early hours of Wednesday morning, after a halting journey from Ottawa, pausing in Washington, and sprinting from gate to gate in Frankfurt. A minor miracle, my equipment followed me loyally through the checked-baggage system. At the Delhi airport, the fact that I was traipsing about with a rifle case raised a few eyebrows, but security waived me on with alarming indifference when I told them that the case merely contained a sword and dagger.
I have spent the day trying to sleep off jet lag at the athletes' hotel, and enjoyed a lovely dinner hosted by the Indian Equestrian Federation, at which I caught up with some old friends from previous competitions.
On Thursday, we will walk the course, greet our horses, and deal with administrative technicalities. The Games will begin in earnest on Friday, and I will be tweeting and updating my blog as they unfold.
At previous international tent pegging competitions, I have known what it is to come first, and I have known what it is to come last. While there is no denying that one feels better than the other, I can say with my hand on my heart that both experiences were dwarfed by the emotion of carrying the maple leaf unto the field. There is no greater athletic honour for an athlete than to represent his country in competition: it is a privilege that no victory can dwarf and that no defeat can diminish.
I hope my results at these Games will be creditable, but more importantly, I will do my very best to represent Canada with honour.