Canada at the World Equestrian Games
06 October 2010, 09h00 EDT (GMT-4)
https://www.maharaj.org/blog/2010_10_06.shtml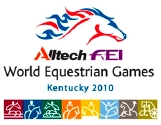 The 2010 World Equestrian Games
Click logo for Canadian Equestrian Team social media
We have now passed the mid-point of the 2010 World Equestrian Games (WEG), the quadrennial global competition at the apex of international horse sport. I have been at the Games in my capacity as Chief Executive Officer for Canada's national team since competition began on 24 September, and I will continue through to the closing ceremonies on 10 October.
Thus far, fortune has been kind to our country.
Our Endurance riders have had their best WEG results since the founding Games. Our Reiners have won an individual Bronze, maintaining their tradition of medalling at every WEG. Our Dressage riders have had their best WEG team and freestyle results ever. Our Eventers have brought back a team Silver, our first medal in the discipline for thirty-two years, on the strength of arguably the finest cross-country run in history.
This week, our Para-Equestrian, Jumping, Vaulting, and Driving athletes are taking to the field, and despite the pathological modesty of Canadians, we remain steadfast in our determination to continue wrecking merciless defeat upon all other nations (but in a polite and self-effacing way).
I have been employing social media to offer our team's supporters a moment-by-moment ground-level view of the Games. Anyone who wishes to follow our team's progress can therefore do so via my Facebook, Twitter, or Barnmice updates.
We are well on course for these to be Canada's most successful World Equestrian Games of all time, but whatever the medal tally, I hope that we will be judged to have represented our country with honour and integrity.