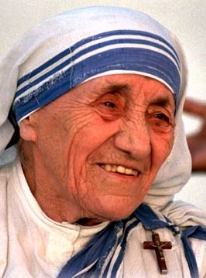 Parkdale," Mother Teresa once told me, "has a special place in my heart." Only since her death have I fully understood why this was so.
I had the humbling experience of passing an afternoon with "the Mother" in 1994. At the time, she had already spent nearly half a century in the slums of Calcutta, feeding the starving, nursing the diseased, and literally lifting the dying out of the city's gutters.
Nevertheless, I thought she was testing the limits of even her powers when she telephoned to tell me that she had decided to come to Oxford to rouse the University's students from their jaded reveries. As President of the University's Student Union, I happily if recklessly pushed several Peers of the Realm off my schedule to welcome her.
I was not alone in my enthusiasm.
When she shuffled into the Union Society which hosted her visit, the Victorian chamber which had at times stood half empty before princes of state and industry, groaned at the joists from the force of students who filled it well beyond its believed capacity.
She stood frail and bent before the crowd, coaxing out her words. Yet, she was the only one equal to the occasion. She lifted spirits with her words. She rebuked undergraduate languor by her example. She dared the gasps of the crowd through her pronouncements. Never in my experience had the chamber been so alive, or so hushed.
Later, after the pomp of her official visit was over, we walked through the gardens of one of the monastic Halls. I questioned her on her decision to open an arm of her Mission in Parkdale. "Why not?" she asked.
I explained that I had only come to Britain to study at the University, that I had been born and raised in Parkdale and intended to return after graduation. "My community does suffer from many of the evils of poverty," I conceded, "but surely, there can be no comparison to Calcutta."
She slowed to press her palms together in the gesture of namaste towards a group of picnicking young women whom we came upon unawares. Most scrambled to their feet; a few nervously attempted curtsies; all managed to spill a good deal of Pimms on themselves. The obvious former debutantes amongst them may have committed the entirety of Debrett's Correct Form to memory, but they were clearly ruing the absence of a chapter on how to reply to a saint-in-waiting.
"Poverty," she replied as we walked on, "is not the evil. Lovelessness: that is the evil. Hunger is bad, very bad, but spiritual hunger..."
She went on to describe one of the first Calcuttans carried into her Mission. "We could not save his life. But when he died, he died knowing that he was loved, that he was worth someone's love. The people in your Parkdale might never know this man's body's pain. But are there no unloved people in your Parkdale? And who suffers more if, when they die, they die without ever knowing even the one day of love that he did?"
As much as she was committed to relieving the material deprivation of the poor, Mother Teresa's real dedication was to the deeper cause of relieving their spiritual isolation. However, while I appreciated that despair could lurk in any city, I still could not see why, when the time came to expand her Mission, she chose to reach out to a neighbourhood in Canada, in preference to any of the haemorrhaging cities of India.
It was not until my pause at her death that I felt the scales fall from my eyes.
The poor of Calcutta suffer so grotesquely and so publicly that it is impossible for them to pass unnoticed. They must be acknowledged by the balance of their society, if only to be despised.
By contrast, the poor in the developed world are largely housed, if in squalor, and fed, if badly. Their destitution is great enough to degrade them, but not so great as to intrude upon the lives of others. They are, for most Torontonians, a silent, invisible, utterly unreal people.
This, I believe, is what drew Mother Teresa to Parkdale, and why it held that "special place" in her heart. It is terrible to live without ever having known love, without ever feeling worthy of another's love. But how much worse is it to live without even existing in the eyes of others, without ever feeling worthy even of contempt?
By coming to Parkdale, Mother Teresa was not seeking the poorest of the material poor, but the poorest of the spiritually poor. She brought the message to Parkdale that we are worthy not just of acknowledgement, not just of love, but of a love that reached across the globe.
And ultimately, I believe that Parkdale's "special place" in her heart won a love that will endure beyond the globe.